Wednesday, February 23, 2005
Chicks dig the long ball..
Courtesy of the Chicago Tribune, this is a picture of Greg Maddux taking BP. As I have mentioned on a previous post, I simply cannot wait for Spring Training and the baseball season. Hope springs eternal, especially for a Cubs fan. I have been reading all the preview magazines and articles lately, and for the second straight year, they've got me awfully excited. The Cubs, despite losing Sosa for nothing, and losing The Farns for nothing, are going to be a really good team. I'll do my full NL Central preview here soon enough. For now, I wanted to post this picture because it really just epitomizes what Spring Training is--alone in the batting cage, working out the cob webs, no crowd....just you and the bat. This also sums up what I love about Maddux--always working on his game. He could not take one swing all of Spring if he wanted to, and no one is going to say anything to the guy. He has absolutely nothing to prove anymore. He could completely and totally mail it in at this point. But he doesn't. The guy is a consummate professional, and I simply could not be happier he is going to finish his career as a Cub.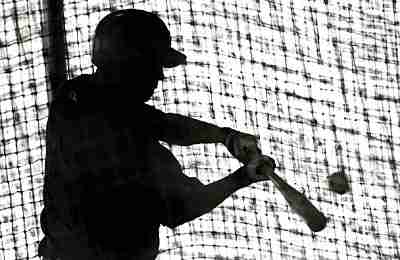 npgage comment: I see no proof that this is Greg Maddux. I think it's probably a body double and Maddux is playing golf.
REPLY: Good point, gage. However, if you look closely, you can see the almost non-existent forearms, the sihloutte of his face, and the slightly protruding gut that has shown up in the last few years.
npgage comment: Oddly enough, you just explained a body double. Most of the best body doubles share a silhoette with the person they are imitating.
Term Papers