Thursday, March 31, 2005
Tourist Guide: Nebraska Putt Putt Atlas
It's that time of year again. Time to engage in a passion my colleagues and I have enjoyed for many springs/summers. This passion may or may not have led to alcohol abuse, urination in public, accidental vandalism, and gambling. The passion is mini-golf, and yes, we're all going to hell.
Without further adieu, I bring you the five or six best courses in the state of Nebraska, as best I can. The ratings are based on the Entertainment Weekly scale. For those unfamiliar, kindly refer to your middle school report card, assuming you made the honor roll. If you didn't make the honor roll in middle school at least once it's assumed you are either a. illiterate or b. don't have access to the Internet. Not my demographic. On to the ratings:

Honorable Mention: Big Apple-Kearney. You can drink here. In Kearney (in other words, you can drink here a lot.)

5. 56th and Old Cheney, Lincoln. A gargantuan 36-hole multi-leveled feast. Bonus points for batting cages and jailbait. Points subtracted for shoddy carpeting and lack of tolerance for people in their mid 20's who are enthusiastic about mini golf. Rating: B-

4. Champions, Hastings. Break out the sand wedge, because these holes are long, causing the scores to inflate, which equates to more scoring discrepancies, thus gambling here is very exciting. Points taken away for being in Hastings, a cul-de-sac extravaganza located 20 miles from I-80. Rating: B

3. Jerrytown, Grand Island. The gimmicks abound at this wildly creative dive in the heart of Webb Road. Avoid those windmills! Bonus points for overall level of absurdity and unintentional tackiness. Points taken off because the carpet was laid by Jesus Christ, with the help, of course, of Jerry. Rating: A-

2. Blue Waters, Carter Lake, IA (it's on our side of the Missouri so it counts). Exhilarating layout and design, the best maintained course I've ever seen. Ran by meth-addled child molesters (at least that's my theory). There are never more than 3 other groups of people playing at any given time, and there's a bizarre early nineties soft rock soundtrack. Rating: A+

1. Cody Go Karts, North Platte. The course that started it all, a beacon on the plains for all who've ever gripped the rubber putter (and I'm not referring to a male penis). The measuring stick on which all mini-golfers should judge their ability. The Augusta National of Nebraska mini-golf. Rating: A++

Apparently I'm even more sorry for America
I've actually found out now that several of my friends like the smash NBC hit, The Office. I don't mean to sound rude, but apparently we're in worse shape than I thought. And honestly, I can't decide what is bothering me the most, but I think that it is NBC. I mean seriously, at least CBS comes up with very original ideas, like Big Brother.

I guess now we will just have to debate which show is more original, The Office or Joey.

I'm Sorry America
For anyone who attempted to watch the NBC remake of the smash British comedy, The Office, you know what I'm talking about. Apparently in our country there are no talented sitcom writers, or at least not enough to field a whole tv lineup, or at least more than The Simpsons, Arrested Development and Scrubs. I can't think of any other comedies I consider to be well written.

Apparently Friends, and subsequently Joey, encouraged clever writers to try their hand in a different medium.

But seriously, The Office was 100% crap. They succeeded in completely copying the show, the set and even several story lines. Of course the mistake they made is that they downgraded every actor and employed horrible writing. The only funny scene relied on racial stereotyping, and c'mon, you don't have to copy a British idea to tell racial jokes.

I guess I was just a bit disappointed. If NBC would've taken the idea and piggy backed off it to go further, maybe we could have had something. Instead they just blatantly copied it, and made it crap.

And the reason we should all be sorry. Our country has to deal with the collective shame of this show. Maybe we all should have spent a little more time writing pilots to TV shows.

Boys of Summer
Baseball is here folks...finally time to quit talking about roids and time to start worrying about Division titles and lack of a closer issues. Baseball is at its finest in the months of April and May. Everyone has a chance and every fan has a hope. With that I am proposing Heavysoul's first ever fearless predictions thread....Good luck to everyone's teams except for the Cubs.
My picks:
AL East-As much as I hate to say it, I think the Yankees storm back this year and win this division. Their rotation if healthy is unmatched. Yes they are aging offensively, but its still a very productive lineup.
AL Central-Grandpa Pete says its the most improved division in baseball...I still say it sucks. Cleveland and Detroit both made some nice offseason moves. Cleveland is one of the best young teams out there but I think they are still a few years away. Mags is a huge addition for Detroit and they should put up a lot of runs this year, I just don't think they have the pitching to make a serious run at winning this division. So with that I'm taking the experience and going with Minnesota. And just like normal they'll win the division but not be a serious WS contender.
AL West- If Anaheim doesn't walk away with this division by June I will be surprised. I love Texas and their young bats, frankily I think that they might be the most fun team to watch this year, they can flat rake, but can they pitch? Man in Black, sorry but I just don't see the A's being contenders this year either...Anaheim easily.
NL East- As a Braves fan I am pissed at myself for picking against them last year, I of all people should have known better...but just like the 12 years previous they found a way to be the best team in a piss poor division. The division improved in the offseason and I think that it will vastly improved. The Mets, Marlins, and Phillies all should give the Braves a run for their money, but I learned my lesson last year, pick Bobby Cox and Leo Mazzone.
NL Central- Like last year...should be the best division in baseball. I really doubt the Cardinals come close to winning 105 games again this year but they will still be right there in the end. The Astros should be great again....than there is the Cubs. How will they fare? In my opinion they are the definate wild card in this division, but their preseason health issues are not boding well. I'll go with the Cards to again win this division but in a much closer race this year.
NL West- Interesting division...the Dodgers totally revamped their roster after winning it last year, the Giants have obvious issues, and than there are the upstart Padres. San Diego came out of nowhere last year and I think that they continue to build on that, I love their starting rotation and I think they win this division in the end.
AL Wildcard-BoSox...again
NL Wildcard-I'll go out on a limb...the Mets spending spree pays off.
World Series-I'll say the Cardinals defeat the Yankees

Well there you have it, i've put my reputation on the line and put my predictions out for the world to see...get to vegas and take the Cardinals at their current 9/1 odds, you can thank me later.

Tuesday, March 29, 2005
I've waited long enough...
GAHill, I wanted to give you a couple of days before I posted this out of respect to the remarkable game we witnessed on Sunday night. It was one of the greatest basketball games I have ever witnessed and I think Kentucky deserves all the praise you heap upon them. At the same time I couldn't hold this in much longer as EZT called out Cleaves and Co. last week.
EZT, where was Coach K on Friday night? I'll tell you where, cowering beneath the power of Izzo. Your boy better watch out or Tom will be taking away those retarded AMEX commercials (good human being my ass). That's now 4 final fours and 5 elite eights in the last seven years. To quote the Kool-Aide Man: "Oh yeah!"
I don't know if the State boys can pull off two more upsets in this tournament, but it was thrill enough to watch Reddick walk off the court as a goddamn cry baby loser. I didn't want to go there but you challenged the supremacy of the FLINTstones last week and I felt I needed to fire back. It was a good game and Duke is a class act, one of the top five programs in the nation. I'll just never like them or Coach K.
As to the other game, I think it speaks for itself. 10 ties, 19 lead changes, a last second shot to send it into over time, and two overtimes on top of that. I watched the game with GAHill and I don't think either of us sat down after 5 min. left in the second half. I may or may not have smoked an entire pack of cigarettes after halftime. It was an incredible game and I hope all of you guys got to watch it.
I know most of you guys don't think the Spartans have a chance in hell of winning two more games. I'm not sure if they can either, but never count out Izzo.
Big "The Izzo Loving" Boi

Do yourself a favor
If you aren't reading the Paul Shirley blog that is linked to the Sports Guy's More Cowbell, read it IMMEDIATELY. I would call it one of the ten funniest things I've ever read on the internet.

http://www.nba.com/suns/news/shirley_blog.html

I'm finding myself drifting from the Sports Guy lately, disagreeing with many of his comments, and I certainly don't wear a "WWSGD?" bracelet. In the last two weeks he has ripped Nirvana Unplugged and Beautiful Girls, but he is right on this one.

Crew....Who Knew
Last Friday I had an interesting experience. I was going to an OAR concert ( more on them later) and my roommate and I decided to grab some dinner and beers before the show. So we went to the neighborhood the concert was in, and found a bar, "Crew Bar & Grill." This seemed innocent enough so we headed inside.....just a bunch of guys sitting around watch the NCAA tourney. Cheap beer, burgers, and a lot of TVs, I'm "in."

Over the course of the next hour, many things became apparent to us.
- The bar was decorated like IKEA
- At 11 p.m. there was a jock strap contest, at "Frat Party Friday"
- Our waitor was wearing a shirt that said "I love tightends"
- Many of the sports fans were drinking Cosmos
- The bathroom was one of the 3 or 4 cleanest I've been in
- There was a framed Sports Illustrated, with Brian Boitano
- The following quote above the bar. "I like my beer cold, my tv loud, and my homosexuals flaming."

If you are as observant as we are, you have determined that yes, we were in a gay sports bar. I mention this story not because there is anything wrong with it, just because it was a fascinating evening. It was great, many pitchers of beer and a few good laughs later we headed to the OAR concert.

Now, I generally think OAR sucks anymore. But I will say this, they play fun ass music, and they don't bother to play anything new. Sure, "Hey Girl" may technically be new b/c they keep re-releasing it on every cd, but they just play crowd favorites that keep everyone rocking.

We're taking a Huge Dump
I admit, I personally have been remiss in posting over the last couple of weeks. A busy work schedule coupled with a move has diminished my web surfing, but seriously, things need to get better.

We don't need to be writing long posts, just tidbits. Doesn't anyone know of a CD I would like. Honestly, I don't hear anything. I just got the Postal Service last week, and it's brilliant, but why didn't I know before then? Everyone who posts on this board who doesn't spend all their time coaching Class C basketball could probably inform me of something I would like.

It's not time for excuses, just time to get better.

Thursday, March 24, 2005
Great Hoops Weekend
How great is this weekend going to be for college basketball enthusiasts??? I don't remember a more exciting opening tourney weekend than last thur-sun was....I think this weekend could even be better. I think we also look at what's left of the field and quickly learn that experienced coaches find ways to win in March. Coack K, Izzo, Lute Olsen, Tubby, Roy, Pitino, Knight, and Sutton is quite the laundry list of great coaches left in the sweet 16. They all have the knack of not losing to teams they are supposed to beat. Obviously something the Bill Self's of the world didn't do.
With that, its an especially exciting regional in Austin, TX. Only one of myself, GA Hill, and Big Boi will come away happy this weekend. As a Dukie I couldn't ask for more than to get the chance to beat Mich. St., Kentucky, and Carolina. What an exciting stretch of games. Can Coach K find a way to overcome a severe lack of depth and size...only time will tell, but my money's always on Coach K. Good luck tomorrow night Big Boi...this isn't Mateen Cleaves and Co.

Tuesday, March 22, 2005
Lemonade
There hasn't been an update in a while, and I don't really have time to do an update now. Topics to be discussed soon include the Tourney, the Cubs' pitching/injuries (see ya, JoeBo), and other cool stuff.

But, for now, I encourage you all to buy Lemonade Gatorade--it absolutely rules, and we're here for you, dear reader. So go buy Lemonade Gatorade.

Thursday, March 17, 2005
This Nonsense Has to Stop!
Enough already. I can't put up with anymore of this I-80 vengeance. Green jacket, gold jacket, who gives a shit? I hope you guys are happy with yourselves. This hatred and libel has already scared off at least one faithful follower of this blog. What's next? I've seen how this movie ends. Due to our unchecked aggression, now one of us will get shot. This unchecked aggression will not stand. I live mere blocks from the Creighton campus. It is inevitable that these posts are already plastered over both square blocks of the campus. Coupled with my personal popularity around town, it will be a long time before I can walk the streets of Omaha with peace of mind. This doesn't need to be an East Coast-West Coast thing. In the immortal words of one Rodney King, "Can't we all just get along?"

I propose a truce. Put the words down. Swallow your pride and walk away with your lives. And to you, Mr. Anonymous, I beseech thee, come back. I'm sorry baby, we didn't mean it. It'll never happen again. I didn't even know her name. I was drunk. She didn't mean anything to me. It was just sex. I don't love her.

UPDATE: The Man In Black, as you can tell, is afraid of confrontation. Please disregard the above post, the "Welcome, Creighton Fans!" post still stands.

Welcome, Creighton Fans!!
It appears Sambuca's letter to West Virginia hit a couple of nerves in the Big Blue Nation (consisting of, well, Omaha)! We have received some very nice comments regarding 'Buca's letter.

A few clarifications regarding our friend jaybird's comments:

1. If one received a D+ in Journalism at UNL, what does a Creighton student get? Last I checked, UNL has an entire Journalism SCHOOL, and it happens to be one of the top-rated ones in the country. Its alumni boasts six Pulitzer Prize-winning journalists. I believe one of those actually includes one of the writers who broke Watergate. Looking at Creighton's website, I see Journalism is a major buried in the broad College of Arts and Sciences. Congrats.

2. In every ranking I have seen of the two schools, they sure are close to be calling UNL a "glorified community college" and to make generalizations of their "academic standing." If you throw in Law and Medical School rankings, I would hate to see what you call Creighton. I'm guessing it would have to be something that you would be embarrassed to say in front of your mother (and daddy might take away the credit card!). Your condescending shot at someone's writing is the ultimate showing of an inferiority complex--you have to bring people down to make a stupid point. Great for you. Oh, and nice use of "delude:" did you have to dig out the thesaurus for that one? If not, I am totally intimidated by your infinite vocabulary and wisdom!

3. Just because the tuition at Creighton is $15,170 (!) more than it is at Nebraska does not make it a better school. Just to let you know.

More than anything, I love how completely and totally predictable your response was. Snotty, condescending, and desperate. Thank you so much for maintaining my expectations of a Creighton grad.

The funny thing is, I could give two rat craps about Creighton basketball. It does fire me up, however, that you defend your MID-MAJOR basketball program by making fun of a university that is overall academically superior to yours because it is a state school. Love it, love it, love it.

Lastly, to "Anonymous:" I know you said that you won't be visiting our site again, but you called us "pathetic" and we "make you laugh." Yet you're the one using "LMAO." Who's pathetic? We're not the man in the mirror....Oh, and I absolutely can put down Creighton basketball, because I follow Kentucky. So it actually makes Creighton's little run the last few years a drop in the bucket compared to the team I follow. Actually, makes it quite laughable. Your best years are UK's darkest. Have fun with that.

Big Boy, needless to say, none of this includes you.

Watershed Day...
So it begins--The NCAA Tournament. But the way it is beginning, you would think that you couldn't ask for more: the first day of three of the absolute best weeks of the year, coupled with St. Patrick's Day and 65 degree weather (here in the Lincoln/Omaha area). When you couple that with the fact that Sambuca and I have a satellite hookup on 'Buca's ginormous deck, it should be one of the great days of, well, my life. The definition of a watershed day.

But it is not. You know why? Because I'm at work, just like probably everyone else reading this right now. It goes from a watershed day to just another work day.

Our good friend Seger posed the question "how is today and tomorrow not a National Holiday?" And you know what? He's right. How is Columbus Day a better day to celebrate compared to the first two days of the Tourney? Let's see--Columbus didn't discover American, raped and pillaged the people and villages that he did "discover" (pretty hard to discover something that is already there), and generally had no bearing on our lives whatsoever.

The NCAA Tournament, however, is a whole different story. It has a total bearing on our lives. For example, today is the first day of me being a nervous wreck, checking scores on my Sprint wireless device every two seconds to see how UK is doing, and generally being in a constant state of PMS (elated to agitated to worried to hellish-to-deal-with back to elated, and the last two years, completely depressed). And how doesn't putting future mortgages down on Utah State to pull the upset not affect people's lives? That's not Columbus putting up that last second shot. That's Andrew Bogut!

So, dear reader, it is time to act. We all must band together and petition to get rid of a holiday of a rapist, and start celebrating amateur basketball at its finest!

Tuesday, March 15, 2005
West Virginia; Do Your Job...
Other than any Nebraska Football Game day, my favorite time of year, hands down, is March Madness.

So many teams, so many stories, so much fun. Seriously, is there a better time to sit in front of a TV for 4 straight days than this weekend?

I'm getting excited just typing this nonsense. This leads me to the subject of this post, which might have confused you. OK, here it is:

Dear Mountaineers,

My name is Sambuca84Proof, I am a 25 year old male, and a HUGE Nebraska fan. Over the years I've been fortunate enough to attend countless college sporting events at Nebraska. Let me repeat that for you WVU fans, I meant Nebraska, NOT Creighton. Please don't confuse. Nebraska has the football team that the whole state talks about year 'round, not Creighton. Red is the color that Creighton fans wear during the fall, not blue.

Growing up in Lincoln, I became a die hard NU fan in every sport. Most specifically in football and basketball. Over the years I took advantage of the poundings that the NU MBB team would lay upon Creighton. Year after year, Danny Nee and his group of athletes would wreak havoc on those slow honkies down I-80. It was beautiful. Then I went to college. Danny Nee got fired. Barry Collier took over, started recruiting average (not good) mid-major athletes, and Creighton started winning. Since then, my college basketball life has been at the satisfaction level of a below average mid-major school. (See Creighton: Tony Beroni Years.)

As you can probably guess, WVU fans, Creighton lives in a dream world. In Omaha, the MVC is greater than the ACC, Big East, Big 12 and SEC, COMBINED. Now that's hard to imagine. But if you live in Omaha, read the OWH everyday, live by the words of Dom Shittell, and praise former Big 8 failure, and current Mid-Major Savior - Dana Altman, imagining becomes easy.

So please West Virginia, I beg you. If you only win 1 more NCAA Tourney game the rest of your school history, just make it on Thursday night. Show the world what you're made of. A big east school, playing top notch teams all year long. You crazy Mountaineers can single handedly shut the door on the hypocrisy of Creighton fans. Well, at least until next season starts.

Thanks & Sincerely,


Sambuca84Proof
Proud NU Basketball Fan

FINALLY, Oakland Finds Success.
Man is Oakland on a roll. Not the A's, they haven't won anything important since 1989, and you can thank Mother Nature for putting the hurt on Candlestick Park, in that instance. No, this is the Oakland Golden Grizzlies division 1 basketball team, who tonight won the play-in game to make it to the final 64. Granted, they will be playing against the #1 seeded, and probably most talented team in the field of 64, UNC tarheels. But who cares, let's just give the Grizzlies some love, just for one night.

You just have to love these guys. 13-18 is their current record. Yes, 18 losses, not exactly your typical tourney team. But let's look at their schedule for a minute. Oakland lost their first 7 games which looked like this:

11/19 at Xavier L 69-58
11/24 at #4 Illinois L 85-54
11/27 Marquette L 95-87
12/01 at Texas A&M L 81-63
12/04 at Missouri L 70-61
12/06 at Kansas St L 76-69
12/15 at Saint Louis L 69-59

Granted, Illinois is the only current NCAA team on that list, but look at the others, they were no patty cakes, and 6 out of 7 of those games were on the road. Talk about baptism by fire. Give the Oakland AD a little credit, as well as their curly haired coach Greg Kampe, because one thing this road schedule did was made them tough and experienced. Just ask the son of the #1 winning college coach to never win a national championship, Oral Roberts Coach Scott Sutton. ORU had a great season, won their regular season conference, and finished 25-6. BUT, when it came to crunch time, Oakland defeated them in the conference tournament championship. Thanks for playing Oral Bobs.

Tonight, Oakland proved to the world that they deserve that 64th spot in the big dance by defeating Bama A & M, handily. So for all you small schools out there playing in conferences that can only have 1 bid to March Madness; Take a page out of the book of the Oakland Golden Grizzlies. Go ahead and schedule yourself the toughest schedule possible, because the only thing that matters is the conference tournament. And if you need someone to back up this argument, just ask Scott Sutton.

America's Favorite Pie???
Apple? Cherry? Key Lime? Peach?

Not in Maine...

Lemon? Chocolate? Strawberry? Are you sure it's not apple?

Sweet Potato Pie??? Not Quite.

Keep going, the man in black is getting hungry...

Unless you visit New England, more specifically, Maine. You would probably never guess that LOBSTER PIE is found on the menu of more restaurants than any of the aforementioned pies combined. CRAZY??? I think not. This is Maine Lobster that we're talking about.

How can one describe the quality of Lobster in Maine? Well, it's tough, but one could compare it to a fine steak located in corn Fed Nebraska. Now that's succulent.

So you've probably heard of Shepherds Pie. Which is average, at best. Please don't confuse. Lobster Pie has stepped up to a whole new level. Kind of like Warren G: "Funk, on a whole new level." Substitute food for funk, and you might understand a little better. This stuff is the bomb.

Lobster Pie basically has 3 ingredients. Lobster, cracker crumbs, and LOTS OF BUTTER!!! How can you go wrong? Really, no more needs to be explained. So, If you are ever lucky enough to stumble upon the state of Maine, and you don't feel like pulling apart a boiled lobster, I'd strongly recommend the Pie. It's THEBOMB.com

Unapologetic Unresponsibility
This past weekend members of this friendly blog traversed the airways to The Valley of the Sun to catch a few rays and ball games. Although this trip was intended for pure leisure, I like to make every situation educational. Here a few of the things I learned:

--According to many anthropologists, the current ratio of good looking girls to ugly girls is 1:1. Fair enough. In Phoenix, the ratio is closer to 48.2:1. If you're an ugly girl in Phoenix, it is a city ordinance to have breast augmentation. I love fake titties.

--A diet consisting of Steves, Chucks, and Carls complemented by Taco Bell and dirty dogs will turn your rectum into a flame thrower. And while it's true that nicotine is a natural laxative, smoking while pooping will only increase the propensity of the molten poo. It's staggering.

--Making friends with local Spring Training celebrities is cool. Unless it's an asshole former umpire who now pays the bills by being a doorguy/bar bitch. It is inappropriate to challenge this larger ex-umpire to a fight when you are drunk by means of the shots of Jack Daniels that he bought for you.

--Being drunk three separate times in one day is not only possible, it's sweet.

--It is not always necessary to wear swimming trunks to the hotel pool, even if you brought a pair. It is however, inappropriate to wear nothing.

--Peer pressure does not end when you leave college. Nor should it.

--No matter the rapport you build with a cocktail waitress, check with her about possible boyfriends before spouting the line, "I want to be on you."

--When having adventures on the walk home, always bring a buddy. When said buddy tries to convince you to get into a bent shopping cart, allow him to. You never know when you'll tip over in front of a party and be invited in. Once inside the party feel free to make passes at girls disregarding any boyfriends that may be present. It is also okay to ask for a drink. It is not okay to become a beer bloodhound and search the apartment until you find one. However, if you do find one, feel free to take it.

--Know when to leave the party--it's always best to be known as the mysterious strangers, who stole the last beer at the party.

--Also know when to leave the aforementioned shopping cart on the side of the road. If you choose otherwise, make sure it is your buddy who has to ride in the cart. When you finally come to a fence, it is best just to leave the shopping cart behind. Seriously. There's no reason to lift a shopping cart over a fence, just so you can push your buddy back to your hotel room in it. If the multitude of warning signs don't convince you that it is a bad idea to take the cart back to the hotel pool, make sure some sort of female security guard is in the alley behind the hotel to stop you.

--Always bring cool props on trips like sailing caps and old cellular telephones. They'll come in handy.

--It is not necessary to use your empty backpack as a parachute while jumping into the hotel pool from the balcony. Nor is it necessary to jump off of the balcony in your sivvies. It is even further less necessary once in the pool to throw your undies up to the balcony.

--If one of your flip flop sandals blows out on you, you must destroy the other, not unlike when a musician destroys his guitar. It is your responsibility to punish that other sandal for making you look foolish. It is a very cathartic experience. It also requires you to have a "New Sandal Day" which is fun for everyone.

--The plain Belgian waffle with strawberry syrup is the perfect hungover breakfast, although a case can be made for a dirty dog and a Chuck.

--If 9-year-old girls know what a hangover is, they do not know how to treat one. It sure as shit isn't talking the hungover's fucking head off while he tries not to vomit on her. And if the hungover can manage a ten-minute cat nap and happens to wake himself up by snoring, shut the fuck up. Don't laugh. Don't ask me if I knew I was snoring. Of course I know I was fucking snoring, I woke myself up. And another thing, no that was not supposed to be a beard. And yes, I realize that the sideburns are a little lacking. Just watch your fucking SpongeBob, you little cunt.

--A good recovery scheme is not to nap for three hours and then watch the four-disc, 12-hour DVDs of The Office, even if you have the next day off.

Please, learn these lessons well so that I may not have to again.

Monday, March 14, 2005
For God's Sake..
Mark Prior to miss next start with inflammation of ulnar nerve in his right elbow, per WSCR in Chicago.

I just can't believe that Mark Prior and Kerry Wood are both hurt in Spring Training.

I just threw up in my mouth.

Unintentional Comedy at its' finest...
In the new Sports Illustrated, Gene Menez takes part in what could be a perfect 100 on the Unintentional Comedy Scale: "Dinner at Yao's," where he sat in the VIP room at Yao's parent's new Chinese place and observed dinner with Yao, Patrick Ewing, and Dikembe Mutombo. This is, hands down, the funniest thing I have maybe ever read. One quick highlight for you:

The Set Up: Ewing has just asked how many languages it is that Dikembe speaks. Dikembe, sipping a vigin strawberry daiquiri, responds:

"I speak Ebonics now, so eight. Yao, do you speak Ebonics?"

And Yao just shrugs.

Wednesday, March 09, 2005
Chick Fights
Is it wrong to be somewhat aroused by female lions fighting? Yes, and I don't care. You can't judge me, you don't know where I live. Well, most of you do so I will revise my answer.

"That's an interesting thought, The Man in Black. It's called animal magnetism for a reason."

"I just can't get over the thought of those taut bodies pouncing on each other."

"You really need help, dude."

"I'm sorry, I've had a lot to drink. I thought it was the Miller Lite commercial from a few years back. Did I say lions or did I say Lite girls, I forget. I meant to say Lite girls if I didn't initially."

My First To Market Ways
In most things that I'm passionate about, I've realized that I need to be the first to market. For those without my deficient marketing expertise, that means, "Me first." Whether it is music or sports, I've found that I need to be the very first one to know about them. I guess in my eyes potential weighs more than popularity. In fact, if it's popular, there is a pretty good chance I don't like it.

Take the Oakland A's for instance. In the off season they traded their two best pitchers, Tim Hudson and Mark Mulder (2 of 9 pitchers with a lifetime winning percentage of .650) for 6 young prospects. So Atlanta and St. Louis can chug wang tonight while I dream of the days when Daric Barton becomes the finest catcher in all the land. He may not do diddly dick in his career, but he could do a lot more.

In the realm of music, not much changes. If it's on the radio, or if somebody from work knows it, and to a certain extent if it's played on MTV, I generally don't like it. Sometimes I'll go to my local independent music store and buy whatever my local music expert tells me to despite the fact I've never heard of them. Usually turns out to be decent and no one is the wiser. I wouldn't listen to The Greatful Dead until I was out of high school because everyone seemed to think they rawked.

TV works the same way. It took me probably until the third season of The Sopranos until I would watch an episode the whole way through. Everyone was too into it too soon. I called bullshit and it kind of backfired. Turns out that show's not too bad. Nip/Tuck's also pretty saucy. Waited too long on Scrubs and Ed as well. But, I've been down with Lost from the get go. Word.

Things I've been first to market on: Oakland A's, Ben Harper, chocolate milk, getting drunk, smoking while on the toilet, inventing my own ego-centric drinking game, being white and owning an ODB album, INXS, body hair, masturbation.

Things I should have jumped on sooner: The Cure, cool casual blazers, having sex with Paris Hilton and Tara Reid, The Sports Guy (still haven't), iPod (that too), bowl cut (never got one and proud of it, but it could have helped those awkward adolescent years), losing the part in my hair.

Tuesday, March 08, 2005
Nothing but Klass here..
Great move by Coach K during the Duke-UNC contest Sunday, taken from the
New York Post
:
"That intensity spilled into the stands as Krzyzewski, livid when he heard a Carolina fan yell to him on his way off the court at the end of the half, 'You've got (official Larry) Rose in your pocket,' had security eject the fan from the arena.
The fan's name: Scott Williams, Roy Williams' son."
Coach K, the classiest coach in America. Grabbing security when he should be grabbing his dry-erase board to try to figure out how to win the game. Sweet job. And the fact that it was Roy's kid just makes it priceless.
Straight plagiarism, baby!
I do not know how to link to a specific post someone puts up on their own blog, so I'm going to have to straight re-publish. This is a really interesting post written up by Scott Lange of
The Northside Lounge
(a great Cubs blog, by the way). He talks about teams' chances of making the playoffs at the beginning of the year, in particular, the Cubs and the NL Central. Pretty interesting statistical analysis. Thankfully, there are people out there that do this. Because I don't. At all. Without further ado...
Fairness
When I was growing up and I'd complain to my parents about how unfair something was, I'd often get the response "Life isn't fair." They had a point- its not. If fate deals you a bad hand at some point in life, you just have to try to overcome it.
Baseball though, is different- or at least it ought to be. When the umpire shouts "Play ball!" on Opening Day, every team ought to have an equal chance at success. Every fan ought to know that his team is going to rise or fall this year based on the actions of the team's management and players and those of their opponents, and not as a result of other outside factors that tilt the balance before a pitch is thrown. (This is why I believe in heavy revenue sharing, although that's not what I'm writing about today.)
Take a look in the top left corner of the page. You'll see that the Cubs have a 23% chance of making the playoffs. You may remember from when I started posting the Playoff-o-meter last August that its based on the record, run production, and run prevention of the Cubs and their opponents. There have been no games played yet, so every team has an 0-0 record, with no runs produced and no runs prevented. So every team must have a 23% chance right now, right? Wrong.
The Cubs are in the NL Central, a six team division. If every team had identical talent the Cubs would win the division once for every six tries, or about 16.7% of the time. Similarly, the Cubs are in the sixteen-team National League. Assuming identical talent and excluding the three division winners, the Cubs would win the wildcard once in every thirteen years that they don't win the division, or about 6.4% of the time. That's a total chance of going to the playoffs each year of roughly 23.07%.
If you do the same arithmetic for teams in the other five divisions, you find that the chances of making the playoffs are actually much higher for teams in other divisions. NL East and West teams should make the playoffs 26.2% of the time. For teams from the AL Central and East, its 27.3%. And for those fortunate teams in the American League West? Its 31.8% of the time- a whopping 38% increase over the rate for the identical team if they had been placed against identical competition but in the NL Central.
I look at a 38% difference and it blows my mind. I am ready to throw a book through the TV every time an umpire blows a ball/strike call against the Cubs. Here we are talking a 38% advantage over the Cubs for Oakland, Seattle, Texas, and the LAAofA, and its just handed to them before the season even starts! Every single year! And nobody says a word!!
For the record, the slanted playing field is a byproduct of Bud Selig's choice to introduce interleague play. If you split the thirty teams down the middle, you would have fifteen in each league. You could match seven NL teams against seven other NL teams, but there would always be one left over. They could simply spread the interleauge games through the whole schedule, but Bud wants to make the interleague games special so he insists on having them all at once. God forbid we do anything to dilute the impact of the hotly anticipated Rockies/Tigers matchup this summer. Or Marlins/Rangers. Or Nationals/Devil Rays. I feel like typing out another fifty examples of these dreadful matchups all night just to prove my point, but I'm going to be merciful and stop here.
Monday, March 07, 2005
Sad Bastard Life Update, Part II
Staying true to form and fulfilling my followings demands, here is Part II of the acclaimed Sad Bastard Life Update.

As I spent the Christmas holiday with one of my hetero lifemates, Delusional KC Fan, I realized I would receive no presents. This would not be a huge deal, but I don't usually buy myself presents besides booze, smokes, and combo meals. Allowed by the pay period ending December 24, and available Internet access, I splurged. I would like to give you an update on how my self-given presents.

1) Print subscription to The Onion. Cost: $50, I think. I know I can access all of the humor and wit from its website, but being as I rarely have reliable Internet access, I thought this would be a cool gift to myself. I imagined impressing guests by having the latest edition on the coffee table. But, as it is, I don't entertain many guests. It is still a tasty weekly morsel while winding down from the rigors of retail. I didn't realize that the majority of the magazine was the A/V Club. I'm not disappointed, just didn't know what I was getting into. Overall Grade: A-.

2) The SNL Ultimate Collection. Cost: $100. As a comic connoseur, this is a must have. You get 10 dvds (Ferrell, Shannon, Myers, Carvey, Hartman, Sandler, Farley, Rock, Murphy, and one other that is lost in the endless clutter of my living room and life. If you purchase this set, you get all 10--that last one is not permanently lost in my living room.) This is a wonderful gift, TMIB. Thank you. You're welcome. This truly is a gift that keeps on giving because although I think I've only watched the Ferrell and Murphy discs, I can watch any of them anytime I want. No urgency necessary. Most discs come with outtakes and auditions, really good stuff. Overall Grade: A freaking +.

3) 1 year subscription to Spin magazine. Cost: $12. The value alone of this gift boosts its grade. It is a nice complement to my lifetime subscription to the more popular and in some posters' opinion more fascist music publication, Rolling Stone. (Which, by the way is a pretty good deal for $100.) It gives me a little more music, a little less Communist Manifesto. As a monthly publication, I tend to forget it is coming until I check the mailbox and it's like finding a 10 spot in the pocket of the jeans you wore last weekend. Overall Grade: B-.

4) Pre-order copies of Bright Eyes' twin albums along with the Bright Eyes' Christmas album from the Saddle Creek website. Cost: $30 plus shipping, which pisses me off because I live about a mile from their HQ. As a self-proclaimed sad bastard, it only made sense to show the world that I couldn't wait to get my hands on more material. The pre-order also entered me into a drawing for an iPod with the entire Saddle Creek catalog on it. I subsequently did not win. This little package was loaded with goodies. Not only did I get a hip little sticker, I also received a hand-written thank you note. Granted it only said "Thank you," in blue ink, it was a nice sentiment. Overall Grade: Good solid 7.5.

That concludes this portion of The Life Sad Bastard with The Man in Black. I win, 1-0.

JoBo sighting...
Joe Borowski finally pitched today, and apparently pitched real well. He pitched one inning, gave up a lead-off walk, but followed that up with a ground ball double play, then struck out the third batter looking on a supposedly real nasty pitch. He told Gary Miller that he was "really nervous" for that first batter, but then settled down.
So there's the good news. Bad news is he topped off at 88 mph.
To say that Borowski returning to 2003 form would be a Godsend is the understatement of the decade. Sounds like it was mostly positive today, but that velocity scares me a bit. Who knows? I do know that this spring is going to be real interesting.
Also, Corey Patterson
got hit pretty hard by a pitch
on his bad knee. He fell immediately to the ground, but walked off on his own power and walked around the dugout. He says he's fine, but they are doing precautionary x-rays. I'm guessing he is OK, but I'm going to go ahead and hold my breath until those bad boys come back from the lab showing that he is still insanely fast.
Why do we have to be so Blog-Gone deep?
Attention Heavy Soul players: We're rapidly closing in on 1000 hits on this blogtastic little creature. Props to all of the contributing members, even the sad bastards, political spaz monkey's, and the beloved sports freaks. There is a spot for everyone on Heavy Soul. Your comments and critiques are welcome, always. Keep this blog rolling!

UPDATE: 1,000 hits down, world domination to go! GA HILL

Sunday, March 06, 2005
Sad Bastard Life Update, Part I
It's been awhile since I shared my unsolicited inner workings, so I figued I'd give it a go. I hope that it is normal to feel a bit schleppy when you are the only single dude in a group of twelve friends. Not bad or pitiful, just a bit schleppy. Two couples married, two engaged, and two damn close. One dude who can't remember a sober Sunday since his high school graduation. Mixes like lamb and tuna fish. Maybe you prefer peanut butter and jelly. Which on a quick side note has seemed like an odd combination. Kind of a ballsy move to be the first to mix the two. Whomever it was, the bastard struck gold. The minds of married/engaged/dating people work differently. No offense to those afflicted, but I think you lose some fun-having ability when you go out socially. Or on the otherhand, maybe when I go out with The Afflicted, I force myself to drink more to convince myself that I'm having a good time and everyone else is actually acting fairly normal and just haven't drunk themselves to oblivion. So in the form of the classic Chicken vs. Egg question, I pose this riddle to you: Are the Afflicted less fun than the Inebriated or closer to normal by comparison?

Friday, March 04, 2005
The Odyssey Begins
Modern technology is absolutely amazing. I'm sitting in an airport bar as I write this post from my cell. Just wanted to let everyone know that you're already four beers behind and I'll see your asses in Phoenix. Hail to the Fuhrer and the Fourth Reich he is creating. Slightly drunk Big Boi, OUT!

Thursday, March 03, 2005
Sorry but.....
...Ronnie Santo isn't a hall of famer. Did he have a good run - yes; was he a good third baseman - yes; is he a beloved Cub - yes; can you understand him on the radio - no; is that a good thing - yes because his enthusiasm is infectious.

But the main question: Is the Hall of Fame a lifetime achievement award - sadly no.

He's a good man and an ambassador of the game, but in a sport that measures greatness by longevity he just doesn't have the body of work on the field.

But he doesn't have to be in the Hall of Fame to be #1 in our hearts.

Cubs Win! Cubs Win!
The Cubbies won their first Spring Training game, defeating the Oakland A's 2-1. Carlos Zambrano started the game. Sergio Mitre got the win, and Michael Weurtz got the save (huh?).
UPDATE: Here's the
box score
. Aramis Ramirez hits a two-run homer, that proves to be the game winner. Go figure. A-Ram dominating. Who would've thought?
Another game note: fellow Nebraska alum Big Dan Johnson got in and played some first base, although it does not appear he got an at-bat. The Man In Black would be able to expound more on this topic, but he is saying that Dan is going to get some good PT this year. I hope this is the case.
From the desk of the Fuhrer...
Big Boi, you're going to have a pretty hard time of taking me out of power....considering I STARTED this blog. I can post as much stuff about Kentucky as I want. Just like you can post about Michigan State all you want.

As far as the "reserving the right to use force," I say bring it, pussy.

This will be my only response, as we did not start this blog for personal talking shite.

Coalition of the Willing
I know this will probably be struck down in a matter of minutes by the Fuhrer, but can't we create a coalition that can take GA Hill out of power or refuse to put all these damn Kentucky references all over the blog. I know he has weapons of mass destruction somewhere, I just need some patsies to agree with me so I can take him down and convert his computer to my own glorious needs. Or we could just limit him to everytime one of us makes a reference to a team we like, he then has a span of thirty minutes to write something about Kentucky. If he misses that window then he has to wait until another one of us makes a reference. I think that sounds fair, but I still reserve unto myself the right to use force whether or not he surrenders all of the Kentucky banter.
Thank you,
Big W. Boi

My annual "F You!" to the Veteran's Committee
Ron Santo
missed the Hall of Fame
again this year. By 8 VOTES. I like the idea of the Hall of Fame Veteran's Committee. However, seeing it is made up of people like that pompous ass Joe Morgan, I hate it. Joe Morgan, on Sunday Night Baseball, has said numerous times that he doesn't think that Santo deserves to get in, which is just stupid.
It mentions this in the ESPN article linked above, but I think the most telling statistic of when Ron was in his prime is win shares. If you are familiar with Bill James' sabermetrics, win shares are (supposedly) the most telling statistic of a player. Ron Santo had four consecutive years of 30 win shares or more. There were only two other players who equaled that total: Willie Mays and Hank Aaron.
Other things include his 5 Gold Gloves, leading the NL in walks four times, OBP two times, led the NL Third Basemen in assists seven straight years, and hit 25 homers and over 90 RBI's in eight straight seasons. Keep in mind that this was in the "non-juiced" era of the 1960's. 25 homers today would be more like 35-40 homers. He was the best third baseman in the NL for most of a decade.
There are only 12 Third Basemen in the Hall of Fame. How one could look at Ron Santo and have a look at his numbers (not to mention the man himself and how he is such a great ambassador for baseball) and say that he is not one of the top 13 Third Basemen of all time? It is beyond me.
So, fuck you, Veteran's Committee. Keep on keeping people out of your precious club, no matter how deserving the player.
Wednesday, March 02, 2005
A Friendly Reminder from this Blog's Moral Arbiter
Since my friend has championed state's rights so unequivocally and Shearer has already commenced with the blowjob, here are some things that state's rights have led to without moral arbitration from your friends at the federal government:

State's rights have morally allowed:

1. Slavery
2. Religious persecution
3. Gender persecution
4. Gun control restrictions (oh wait, the opposite)
5. Capital punishment of kids not old enough to kill people legally (by joining the army)
6. The firing squad as method of execution (Utah)
7. Kentucky basketball flourishing and me having to read a new post about it every damn day when no retorts are granted.
8. Censorship (see #7)

State's rights have morally outlawed:

1. The teaching of the theory of evolution
2. Bans on the teaching of foreign languages (right here in NE)
3. Immigrants' rights
4. The practice of all non-Christian religions
5. Fair-trial rights
6. First-Amendment rights (freedom of press, speech, assembly, etc.)

Also, last time I checked it was a function of the Supreme Court to INTERPRET LAWS passed by states. And last time I checked they were the highest judicial court in this country, thus superseding the state's power by definition. What's the big deal?

Speaking of Senior Night...Don't forget about "THE CAPTAIN!!!"
When it comes to leadership, sportsmanship, class, personality, and the ultimate teammate: I think of #12, THE CAPTAIN, Jake "The Snake" Muhleisen. That's right, #12 in your program, #1 in your heart. How many players in D-1 athletics can you name that have been captains of their program for 3 years? Well, I can only think of one. Say what you will about NU Basketball, and well, you could say a lot, but Jake's leadership speaks volumes.

The 6-4 senior out of the storied program known as Lincoln Southeast (AKA: The New York Yankees, LA Lakers & SF 49ers of HS Athletics*) has been the glue of NU Basketball over the past 4 years. Granted his #'s have been down this year, but he's a team player, and the team has a chance to finish 8-8 in Big 12 play for the first time under Barry Collier.

While the future of the Snake is unknown to us at the moment, we could probably predict that he will log zero-to-no minutes at all in the NBA. But that's okay, because this kid could do almost anything else. Wojo has nothing on Jake. Let's just say that the Snake will be on the bench for the Huskers in a couple of years, making everyone in the country even forget about that clown Wojo. That would be great, I'm pretty sure it will happen. Hell, most of you don't even know who Wojo is anyway, other than some D-Bag that used to bang on the floor. (Left Turn, Sorry, I'm back.)

Back to the issue of being captain, in which Jake has three years of service under his belt. This year, famed Husker Football Play-by-Play man, and current basketball announcer Jim Rose has coined a new nick-name for # 12..."And finally, at 6-4, a guard, from Lincoln Southeast High School "THE CAPTAIN" Jake Muuuuuuuuuuuhhhhhhhhhhhhlllleeeeeeeeeiiiiiiisssssssssennnnnnn." Honestly, I've heard Robert Parish introduced at his final game at Boston Garden, which perils in comparison to the 8,000 NU fans that go crazy when Jake is introduced. And those Celtic fans loved the chief, but they hold nothing on the country's only Red Zone, and their passion for our beloved Captain.

So a big salute to all Husker Seniors tonight: John Turek, Corey Simms, Marcus Neal, and especially #12, "THE CAPTAIN" Jake Muhleisen. Jake, we'll miss you greatly. Your hard work, devotion, leadership and charisma are second to none. Thanks for being a part of the strong Husker Tradition.

*Another Breathtaking fun fact about Lincoln Southeast and Husker Athletics: The Captains of all three major sports, Football-Barrett Ruud, Basketball-Jake Muhleisen, and Baseball-Alex Gordon are all LSE alums. Ruud & Gordon will continue their careers as professional athletes in their respected sports, and for Jake, well; you already know what kind of stud he is.

Punk Rock.....well it rocks
Over the weekend I went to a Goldfinger concert. I have essentially zero knowledge of the band, but the show was still excellent. The lead singer is 37 and still plays with unbelievable energy, and stage dives approximately every third song. We also saw the drummers bare ass. I hope when I'm old I'm awesome too.

Frrrrooooooommmmm Medestoooooo, Calllllifornia....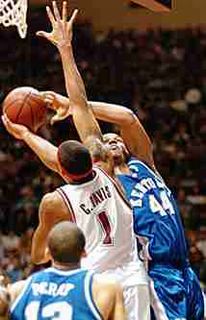 Chuck HAYES! Tonight is
Senior Night at Kentucky
, meaning this will be the last time that Chuck puts on a Kentucky uniform. It has been said that Chuck might be the most respected and loved player in the the history of the program--which is 101 years young this year, by the way. The guy is an amazing individual, and the absolute model of what a student athlete should be--the consumate teammate and unselfish player, not only staying four years, but he is graduating in May. He's the ultimate leader, does countless great things off the court, and has the respect of every coach and commentator in the country. Last night during the MSU-Arkansas game, the announcers all said that Chuck is their SEC Player of the Year--despite the fact the guy only averages 11 points a game. He will leave UK as a top 10 all-time leader in rebounds, blocks, starts, among others. No other player in the country has a better career winning percentage (when starting).
As for the title of this post, UK's announcer does a similar thing for Chuck as they did for MJ in Chicago. I have heard both, and I can tell you one thing without a doubt--the crowd's reaction for Chuck is twice as loud as it was for MJ. And it was deafening for MJ. It is honestly a really sad day for me--Chuck will always be one my absolute favorite athletes of all time, and I have a pretty strong hunch after this season we're probably not going to see him logging any kind of big-time minutes in the NBA.
I think that what his fellow senior on the team, Josh Carrier, says about him speaks volumes:
"Chuck represents what is good and admirable in a leader. He has given his heart, body and soul to UK basketball, and in return he has received our admiration. His zeal, his personal sacrifices and his devotion to our great basketball program have known no limits.
I thank you, Chuck, for what you mean to our team, to my great state of Kentucky and to me. You are a true friend and my brother."
Thanks for the memories, Chuck. (Woo, it's getting a little dusty in here...)
Tuesday, March 01, 2005
Our Moral Judges
In my inaugural post to this blog, I figured I would start in such a fashion that everyone will know where I stand along the political front: pure and total fascism (J/K).

Today, the Supreme Court handed down its decision in the Simmons case that an execution of a minor between the ages of 16 and 17 is cruel and unusual punishment. Now, the bleeding-heart liberals will cry victory (and would say Hallelujah if they believed in God), while I will be wallowing away my misery with a frosty bottle of hemlock tonight. What am I miserable about? The consistent stance that this court has chosen with respect to state's rights.

I am not an advocate of the death penalty. In fact, I find the entire idea morally reprehensible. However, I do believe that the states should be allowed to make their own laws. The liberals would have you believe that the federal government taking unto itself more and more power is for the common good. Evidently, they think it's a good idea for you and me to no longer have a say in the democratic process. Today, Justices Souter, Ginsberg, Breyer, Stevens, and Kennedy let the world know that they are now the sole judges of morality in the United States. My BOYS Thomas, Scalia, and Rehnquist and my hunny bunny Sandra Day made their displeasure known in a scathing dissent. They understand what the liberals evidently do not: the more consolidated the democratic process, the less it can do. By limiting the states in the laws they can enact and enforce, the Supreme Court takes the power out of the hands of the state officers and the voting public that put them in office. You might ask, but doesn't that same voting public elect our national representatives? Yes, but each state doesn't have the same representation as the Nebraskans on this blog can clearly attest to. California and New York may not find the disappearance of states' rights that disturbing of an occurrence, but those of you that live in Iowa, Alabama, Oklahoma, Montana, etc. should understand that less power reserved to the states means less power reserved to you.

For those of you who don't know the Simmons case, the State of Missourri found Simmons guilty of a murder he committed when he was 17. He broke into an elderly lady's home while she was sleeping, bound and gagged her, dragged her across railroad tracks near her home, and dropped her off a railroad trestle. I'm not saying that Simmons should have been sentenced to death, but if he would have been an 18 year old, he would have ridden Old Sparky to that burning ring of fire by now and none of us would have ever heard about it (unless you live in Missourri).

I just think it should be up to the states to make those kind of decisions because each state has its own outlook and its own opinion and who are you to tell them that their opinion is wrong.

At least I can take solace in the fact that my party owns the House, the Senate, the Presidency, and most of these Justices are old enough to remember the connecting of the trans-continental railroad.

UPDATE: Big Boi, coming strong! You may be the rookie contributor, but that was a veteran post, my friend! GA HILL

So Close....
Seriously, did anyone think that EZ-T's boys would not leave it all on the court.
http://www.journalstar.com/articles/2005/03/01/sports/doc42240bebef00a348084782.txt
UPDATE: NP Gage already said it, but these kids surely played their ASS off. It was one of the most exciting HS Basketball games that I've ever witnessed, truly worth every penny of the $4 admission charge. Ray Central finished regulation on a 9-2 run to send it to OT, then drained a 3 at the end of the first OT to tie it again. It was everything you could ever ask for in HS B-Ball. In the end, the team that shot better from the charity stripe was able to close the deal. 27-30 from the line, that doesn't happen often, not in HS, not in the NCAA, rarely even in the Association. A heartbreaker for the Ehlers boys, for sure. But EZ-T's already talking about next year, all the juniors that are coming back, Ray Central isn't going to hang their head after this performance; these boys should be proud. Hats off to the coaches too. It was obvious that they got every once of potential out of these boys.
Sambuca84Proof
Term Papers