Friday, April 28, 2006
Let's make a million
As I was sitting here enjoying my Dunkin' Donuts coffee this morning, I was thinking that I couldn't remember the location of one in Omaha. And through internet research, I still haven't found one. So here's to Heavy Soul opening up a dozen of these babies in Omaha and moving over to easy street.
http://www.dunkin-baskin-togos.com/html/home.asp
Also, the following cds were in heavy rotation* at my desk this week:
Jeff Tweedy - Live on March 5, 2005 - Just a great concert. Lots of Wilco songs, lots of covers. 35 songs in total
Neko Case - Fox Confessor Brings the Flood - I just picked this up this week. I've been enjoying it, but have yet to form a complete opinion.
Kathleen Edwards - Back to Me - See my concert review for my thoughts on her, eh?
The Good Life - Novena on a Nocturn - Just outstanding. Favorite Song: The Moon Red Handed
*heavy rotation means I listened to the cd at least 4 times this week.
Thursday, April 27, 2006
Me and my buddy Rick Ankiel
I thought several contributors might be interested to know that I am currently scheduled to open a new softball season on the mound next Wednesday. For those of you who were there when I had my slowpitch softball pitching meltdown a few years back, wish me luck.

Wednesday, April 26, 2006
Not what I thought...
I had the pleasure to receive the new Nebraska state quarter as part of my change from lunch today.

The quarter looks as follows: Prarie setting with a bright sun overhead. Pioneers in a cover wagon going past Chimney Rock.

Not bad looking, unfortunately I was pulling for a more current depiction of Nebraska so my quarter looks as follows: Corn cob next to a drunk college kid vomiting on a curb next to a meth lab. with the slogon "At least it's not Iowa."

Sources say my depiction was a strong second place.

Folk Music, Not just for your parents anymore.
Last night I went and saw a Kathleen Edwards concert. She is a folksy Canadian whose cd I have been moderately enjoying. It was interesting, b/c usually the alternative and poppy concerts I go to are full of high school kids, but this concert was full of their parents....and couples.

Thoughts on the concert:

- Opener Amy York - quiet chick with guitar singing folk music. enough said. except of course that it basically sucked.

- Band - consisted of Kathleen Edwards and a guy who looked like Drew Lachey. Drew played piano and some electric guitar, and sang back up, albeit not very good back up. I also never got over the fact that he was a dead ringer for our Dancing with the Stars champion. As a side note, he was also Canadian.

- Banter - this is where the concert was at its best. Kathleen Edwards took a number of shots during the show, and I would say managed to get pretty drunk, or "blasted" as she said. I believe that is a Canadian term. The more drunk she got, the more hilarious her rambling became. I never thought I would say a folk singing chick was maybe the funniest artist I've ever heard in concert.

- Overall - the show was a big winner. the music was above average as well.

Oh, and you might wonder why I had tickets to a folk concert. I bought them for a chick, and when it didn't work out I never got around to giving them to her. So I took my bro.

Tuesday, April 25, 2006
Oops
Here comes a quick run down of a scandal I was around over the weekend.

On Saturday, I went up to Milwaukee with my bro and my former roommate. We were going to the Brewers game on Sunday (more on that later), so we decided we might as well go up and party Saturday night in the city that made beer famous. Yadda Yadda Yadda, we all got wasted, Milwaukee is a blast.

So at 8 a.m. on Sunday, my bro's boss calls. As he is amazingly hungover, he sends the call to voicemail and wonders why she called. Upon further inspection of the phone, it is determined there was an outgoing call to her at 330 a.m. So, clearly, my bro spends the next day panicking and goes to talk to the boss first thing Monday morning. She is pretty cool about it, but the whole thing still seems weird as he has no recollection of the phone call.

Through Monday e-mail and piecing the events together, it became clear that maybe my bro didn't call his boss. So this morning, Tuesday, he asked if he could hear the message he left. Sure enough, it was my former roomie leaving the following message:

"this is Jim, this is Jim"…and then it goes quiet for a sec and then "Balls" and a hang up.

My former roomie does not remember this event, but apparently was calling random numbers in my bro's phone and randomly hit his boss....that's worse than cell phone roulette.

In other news, the Brewers parking lot is one of the finest in major league baseball. Excessive amounts of food and alcohol consumption, and it's humorous because nobody uses propane. In Milwaukee, if you don't use charcoal, you are just a pussy.

But my first good tailgate of the year also got me thinking about good summer songs. . . . so what are some options for the summer of 2006. I would like to nominate "Holiday from Real" by Jack's Mannequin to get things started.

Cheese and Rice, this is good
Stop what you are doing at this instant. Run towards the nearest exit. Knock people down who are in your way. Get in your car. Disobey traffic laws and speed to your nearest music store. Got to the "G" section. Select Jose Gonzalez', Veneer. Rip open the packaging. Demand to hear the album. Leave a twenty on the counter and sprint to your car. Enjoy the lovely music of an Iron and Wine/Nick Drake love sandwich.

Monday, April 24, 2006
Deuce...You would've been proud
Randomly over the weekend, I watched two movies from the Deuce's favorite actor. I caught Waiting and Just Friends in an apparent Ryan Reynolds marathon. Comments about how pathetic my life must be aside, I enjoyed both of the movies. Most notably Waiting, b/c it was funny, but I'm still not sure if it had a plot.

Saturday, April 22, 2006
The Rodney Dangerfields of Baseball
It is just absurd how overlooked the Astro's are year in and year out. Every night they are just a blip on Sportscenter. They have the best record in baseball yet on ESPN's power rankings they are currently ranked 8th in between the Blue Jays and the Angels two teams whose combined record is just .500. Plus the Yankees despite being only a half game ahead of the D-Rays and being the 4th best team in their division are ranked as the 5th best team in all of baseball. It's like the Astro's and their players don't exist. There are a bunch of players on this team that are having an amazing start to the season but no one has said anything about it. ESPN just had an article talking about how good Josh Becket has been this year for the Red Sox. Let's compare his stats to the Astro's eventual 5th starter.

Wandy Rodriguez

Wins- 3
ERA- 2.52
K's- 15

Josh Beckett

Wins- 3
ERA- 2.54
K's- 15

Despite identical stats, you won't be seeing any articles on Wandy any time soon. For another example, I present Morgan Ensberg. He is destroying the ball and to prove my point lets line him up against the "best" hitter in baseball Albert Pujols.

Pujols has been on a tear hitting 6 homeruns in his last 6 games (3 coming in one game).

AVG.- .358

OBP.- .507


Ensberg has hit 7 homeruns in his last 6 games.

AVG.- .411

OBP.- .522

If Ensberg played for New York, Chicago, or the Cardinals everyone would be talking about how good he is.

This team made it to the World Series last year, currently has the best record in baseball and still can not get any respect.

Thursday, April 20, 2006
Where is Prior?
Wednesday, April 19, 2006
They don't call him the best color man in the business for nothing, folks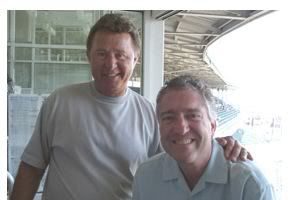 When it was--*ahem*--suggested that I not get the MLB Extra Innings package this season, I was none too happy. With the Tribune Company's continued assault on Cub fans that do not live in the Chicagoland area, it is harder and harder to follow the Cubs outside of paying out your ass or just reading box scores. This is beyond frustrating.
That said, I have decided to look on the bright side of life--I get to listen to Pat Hughes and Ron Santo on 1620 The Zone.
As everyone (both inside and outside baseball) knows, Ron Santo is the best color man in the game. Here is an exchange from the top of the fifth inning (The 5/3rds Bank 5th Inning!):
-Hughes: "And Pierre strikes out on a tough pitch from Penny."
-Santo: "Awwww, man!"
-Hughes: "Walker lines one out to the outfield for a base hit."
-Santo: "Awwwwright!"
-Hughes: "Lee hits one sharply to Kent, but he flips it to Furcal, who throws over to first...double play."
-Santo: "Uhhhggggggggg."
This is what baseball on the radio is all about--if you can't see the freshly cut grass and smell the Cracker Jack with this kind of color commentary, you're dead inside.
Friday, April 14, 2006
Thome vs. Thomas
Don't get me wrong. I was always a big fan of the Big Hurt when he was in Chicago. He was one of the first guys I can remember being a fan of. I did hate to see him go because he was such a figure in the organization for so many years. It would have been nice to see him finish strong in a sox uniform.

However, looking strictly at the numbers so far this year it is very clear that the sox got the better end of the deal by getting rid of him and signing Jim Thome.

Look at these numbers so far:

Thome: 29 AB, 11 H, 6 HR, 10 RBI, 12 R, .371 BA, .561 OBP, 1.103 SLG

Thomas: 29 AB, 4 H, 1 HR, 6 RBI, 4 R, .138 BA, .242 OBP, .310 SLG

and just in case you were wondering,

Carl Everett: 32 AB, 4 H, 1 HR, 3 RBI, 5 R, .125 RBI, .317 OBP, .281 SLG

To reiterate . . .
MIB's point. The new Flaming Lips cd is outstanding.

Other cds I've been enjoying this week include:

Cat Power - The Greatest
The Format - Interventions and Lullabies
The Subways - Young for Eternity

And my several month long obsession with Album of The Year by The Good Life continues.

I've also been listening to the Arctic Monkeys again this week, and on my second period of time spent with the cd, I'm still only calling it average. Granted, there are a couple of good songs most notably "A Certain Romance." But also, it's hard to not feel like they are a bit overrated.

Thursday, April 13, 2006
Just for you GA
Literacy Proficiency (edited for spelling by Rod) Test
Please choose the correct answer on the questions listed below:

1. Can you read?

a. Yes, I certainly can read.

b. Cwe, Pq fhevwzuy ypmux.

Can I leave?
If I worked my 40th our of the week from 9 a.m. to 10 a.m. on Thursday, does that mean I am free to leave?

Big Husker weekend
Spring game and aTm visiting Haymarket Park for a big home series

Thoughts on the Spring game (which by the way i will actually have to miss this year do to this grown up thing known as purchasing a home):
-Can't wait to see Octavian...the guy has been blowing people up this spring from all reports. Our LB corp will be deep next year if Ruud and Stew can't get back to 100%.
-Sounds like Beck has been cleared to play, that's great news as he really needs the reps.
-Lucky vs. Glenn, who wins the job?
-Dear God, Please show that our line is significantly better this year. Sincerely, Zach Taylor's backside.
-How are the new safeties picking up the schemes?

on to baseball...
-first off, for any of you coming to the spring game...make sure you stay for the series finale at HP..hopefully going for a sweep, they might have 8K people in there if the weather's nice.
-How weird is it going to be to see Husker Legends Rob Childress and Will Bolt in that ugly ass maroon color? I for one will still be giving them an applause, both should receive a large amount of credit of the great baseball program we have today.
-It's time for Joba to start dominating again....period!
-How good is this team offensively? Compared to years past we just have a lot less holes in the lineup. The 3-4-5 of Wherle, Buckman, Gorsett has been dominant. We also have more options off the bench this year than anytime in the recent past.
-For god's sake can we find a mid-week starter???? 16 free passes in Iowa City (11 walks and 5 HBP's)

That's all....just wanted to chat a little about the great sports weekend in Lincoln. If any of you make it down and need a baseball ticket to sat. let me know i might be able to hook you up....especially if i am still moving and can't make it. Speaking of that, any volunteers to help me move? anyone?

Wednesday, April 12, 2006
Ramblings....
Thanks to Websense, I'm no longer able to check the blog--let alone post anything on it. So I thought this would be a good time to throw some built up spew on here. On we go...

--I am excited about the Cubs so far. As long as Glendon Rusch is not pitching. Incredible speed on this team, I tell 'ya.

--Speaking of the Cubs, it is no longer "M-V-Lee!" It's "M-V-Barrett!" OK, that doesn't work too well. But Barrett, along with Ronny Cedeno, are going to have breakout years. Bank on it. (I also really like the rookie Angel Pagan. Uh, Jacque Jones? Take your time healing up that leg buddy--OK?)

--As I hear more and more about Brit-pop and punk from my new boss, the more I see and appreciate how hip-hop is similar. British kids grow up not just listening to what's on the radio. They have a true appreciation for American rock and roll--much more so than American kids, which is sad. British people, apparently, *love* the likes of Buddy Holly, the Beach Boys, B.B. King, etc. And you can hear this in their music. They are giant music snots over there because they are so well versed in classic rock and roll (whereas here, classic rock and roll means Z92 and the fucking Doobie Brothers). With "real" hip-hop (The Roots, Common, Blackstar, Kanye, etc.), they similarly worship at the altar of real, classic hip-hop. Innovators like ?uestlove of The Roots studies classic music--naturally, classic soul from the 60's, 70's and 80's, along with the originators of hip-hop (not to mention all types of other music: dude went to Juliard, what do you expect?). This is why groups like The Roots are so much more popular in England than the US--because English kids hear the craft and influence in their music. They get it. I've never understood why so much of the music I love (also included are English groups The Brand New Heavies and Jamiroquai) were so big in England, but barely a blip in the United States. The more I learn about English culture, the more I understand.

--Speaking of cool Brit kids, the Arctic Monkeys are still kicking ass, despite many plays of their new album. Hales: I don't know if I told you this, but I saw them in San Francisco! We should hang out sometime so I can tell you all about that show...

--Not too long ago, I was purchasing DayQuil at Target. I asked the girl working why I had to pick up a piece of cardboard and take it to the register and write down all my info before I got the package of cold-calming wonderfulness. I assumed it had something to do with making meth (I don't know???). Turns out they are including DayQuil/NyQuil with the likes of Sudifed because....high school kids are abusing it? Huh? Are high school kids that bored that they're taking too much DayQuil to see what happens? Hey kids: what happened to beer, cigarettes, and chew?

--Speaking of underage drinking: there was a PSA on 1620 The Zone stating Nebraska is #1 in the United States when it comes to underage drinking and teenage pregnacy. Now, I don't know how exactly this is quantified--per capita? Straight up?--but I've been working on some new state slogans:

"Nebraska: Where the kids get drunk and knocked up!"
"Nebraska: Who *doesn't* want to get drunk and have sex after a football game?"
"Nebraska: Home of conservative values!"
"Nebraska: Not just the cool kids get drunk and laid!"

Feel free to add more in the comments. But I know one thing: in no way is there any kind of direct relation between being number one in underage drinking and teenage pregnancy. No way.

--In no way does the "I'm Wayne Brady, bitch!" sketch ever get old. On a related note: the new Esquire has Dave Chappelle on the cover. Pretty good article on him in there. Also, Chuck Klosterman's column on loving Ethenol for no reason other than he thinks he should is priceless.

--On the subject of Ethenol: NBC Nightly News tonight had a story that part of the reason that gas prices are so high is because of--you guessed it--Ethenol. Apparently, it is extremely costly to inject this into normal, good old fashioned gasoline. I always have been a big fan of Chuck Hagel pushing minimum Ethenol levels in all gasoline nationwide, but I wonder if this great gesture for our state and environmentalism is misguided? If anyone wants to drop some futher knowledge on this, I'm sure there are tens of people like myself that are interested.

--I really hope I spelled "Ethenol" right, because I just typed it five times.

--Sounded like a great game between Nebraska and Iowa yesterday--a 13-inning thriller, with the good guys winning. I don't know what made me more excited in the world of college baseball last night: the fact that Nebraska won, the fact that Nebraska not only won but once again solidified my argument that Iowa completely sucks and Nebrsaka rules its pitiful existance, or that Creighton lost. I think I will go with Choice B.

You've been a great audience! Good night!

If this isn't blog material
I don't know what it is....Heavy Soulers, I present you a clip from today's Lincoln Journal Star.
Soft drink lodged in man
A 38-year-old Lincoln man showed up at BryanLGH Medical Center West on Monday, claiming he had been assaulted last week, police said Tuesday.
The man told hospital staff he was in the area of 28th and P streets Thursday when someone punched him in the head from behind and kicked him when he fell.
He said he temporarily lost consciousness and came to, only to find his pants down to his ankles.
An X-ray at the hospital Monday revealed a 20-ounce soft drink bottle lodged in the man's lower intestine. He was to have it removed Tuesday.
Link
I hope he's wrong Part II
EDIT: Welcome, Deadspin readers! Make sure to look around a bit while you're here. It's fun!

This has to be the funniest e-mail I've come across in quite some time. I've never shied away from conspiracy theories, but this one might be a bit much.


This is the e-mail verbatim:


I received this e-mail from someone close to Solich and this e-mail
was
> >written by Frank's son-in-law, Jon Dalton.
> >
> >
> >
> >Okay,
> >It has been some time since I last emailed most of you on this
subject,
> >and
> >I have been cleared to share some information about an "Incident"
that
> >occurred with my father-in-law back in November. As most will
probably
> >recall, Coach Solich was picked up for "DUI", to which he was advised
> >and pleaded "No Contest" on the first business following the
> >incident. I also
> >sent an email on this speculating that there was foul play. Coach
had
>a
> >hair analysis test ran and it was confirmed that he was drugged, not
> >intoxicated. The GHB levels in his system were extremely elevated,
> >which caused him to "pass out" within 20 minutes of the drug entering
> >his system.
> >He has been working to have this information released to the public,
>but
> >has
> >not necessary gotten full support of the University President. The
> >Athletic Director is beside himself, as is Frank, and well, most of
> >the rest
of
> >us
> >this close to the situation. The school is a notorious party school,
> >frequently finding themselves in the TOP 5 party schools in the US,
> >including the last 2 years that I am aware of. They have also
recently
> >had
> >at least 3 Doctorial professors, presumably in their medical program
> >that have been "busted" for distributing prescription drugs to be
> >sold via non-legal means. Interestingly, the bartender at the
> >establishment,
is
> >a
> >hippy child, who happens to be the son of an Ohio University medical
> >professor, that has access to this drug, GHB. While I would be
shocked
> >if
> >the local DA or University is willing to investigate any further that
>to
> >find a way to NOT implicate the locals, particularly tenured
> >instructors, the facts of
> >this "incident" will eventually be released. It may come when Frank
> >finally
> >has had enough and goes public himself, on his way to a different
> >opportunity, but he hopes it does not come to that.
> >It has been interesting trying to feed this information to Bobcat
> >followers
> >on the web. Folks back there don't seem to think it is even remotely
> >possible, while others would "like to believe". Even the arresting
> >officer
> >is certain that Frank was the victim, based on recent conversations
> >Frank
> >has had with her, from what I hear. Feel free to inform anyone you
>might
> >think would appreciate this information. The more that know the
truth,
> >the
> >more likely the truth will be officially released. Incidentally, I
>have
> >also seen, read, hear of pretty much all of the other "rumors" and
can
> >assure you that Cindy has no illegitimate brothers or sisters, there
> >have NEVER been any affairs, no-one is getting a divorce or
> >separated, and whatever else might be out there is just something
> >only naive people would
> >believe to be true.
> >Jon

Tuesday, April 11, 2006
I hope he's wrong
Seymour Hersh, the man who broke the story on the Abu Ghraib prison scandal writes in a recent New Yorker article that the U.S. Government is frighteningly close to invading Iran. Scarier still, apparently an integral part of the plan involves using tactical nukes to destroy Iran's underground nuclear facilities. One government official said, "we used them in Japan and they worked. We may have to use them there [Iran]." A big reason for using nuclear weapons is due to the lack of reliable intelligence in the Mideast.
When do we decide to go ahead and finish what we start (read: Afghanistan, Iraq) before starting new adventures in diplomacy?
If you want to see Hersh's interview with Wolf Blitzer, go to YouTube. (I couldn't figure out how to post it here.)
This is from the guy who writes Get Your War On:
A colleague of mine was expressing his concern about Bush's plan to destroy Iran's nukes by dropping nukes. He said this would be a bad idea, because it would be like throwing stones at a hornets nest. I thought about this for a moment. No, I said. Supporting Isreal's six day war was like throwing rocks at a hornets nest. Supporting the corrupt Saudi royal family is throwing stones at a hornets hest. Overthrowing Iran's democraticly elected president in 1953 was throwing stones at a hornets nest. Invading an oil rich sovereign Muslim nation and killing 150,000 civillians because of what 19 Saudis did to New York on September 11th was just a little bit like throwing stones at a hornets nest.Dropping a nuke on Iran? Dropping a nuke on Iran would be like dropping a tactical thermo-nuclear warhead on a hornets nest. And then, every single hornets nest for a thousand miles would kill absolutely everything in site that wasn't a hornets nest.Imagine if these guys had the Quran memorized...
Monday, April 10, 2006
New Music Update
There are lots of good things in this world. One of them is music. Another is beer. A third is music about beer or beer that reminds you of music.

There is music that I'm excited about.

Yeah Yeah Yeahs, Gold Lion.
Griffin House singing The Way That I Was Made.
New Chili Peppers album.
New PJ album.
New Shins album.
New Flaming Lips album.
Tapes 'n Tapes, The Loon.

Do you like music also?

R.I.P. Big Boi
The Big Boi is dead, pop your collars out of respect. Long live the Deuce!

Friday, April 07, 2006
Not surprising
I think my fantasy baseball team blows already, and our season hasn't started yet.

If I could get a solid closer with some character, like Milwaukee's Derrick Turnbow, that would help.

MIB, I'm looking at you.

Thursday, April 06, 2006
Vote Here....
Which Heavy Souler will go to jail first at EZT's bachelor party?

I personally am voting for MIB.

Wednesday, April 05, 2006
The Format
rocked my socks off at The Metro Tuesday night. Just a very solid band putting on a very solid performance. They seemed to be very excited that they were headlining their own show and they kicked ass with a solid mixture of old songs and new ones. In fact, they were so good, if I had a MySpace page I might ask them to be my friends.

As a side note, MIB and I have agreed to begin reviewing all concerts that we see on the blog. I would like for other contributors to do the same.

Tuesday, April 04, 2006
They got the death part right
Last night's performance by Death Cab for Cutie was, in a word, underwhelming. I love me some live music and this show needed the equivalent of some music Cialis. It's like the show really wanted to be good, but something was preventing it from getting hard.

Maybe it was the awful view I had because I was late and had to stand three rows deep in the balcony at Sokol. Maybe it was because every current Westside student was singing his/her little heart out to each and every Ben Gibbard lyric. Maybe it was the attractive 29-year-old standing next to me. I don't know.

Maybe it was a lot of things. But most likely, the reason the show was so marginal was because it came from a marginal band.

Don't get me wrong, I enjoy "I Will Follow You Into the Dark" as much as the next Joe, but I was looking for a bit more. Death Cab For Cutie did NOT play a bad show. They played all their popular songs. The accoustics were good. The band sounded pretty tight. They just seemed to be on autopilot. Oh sure, they thanked the crowd and told us where they were from, but I think Collective Soul does the same thing.

I just expected more from the band that The OC crowned as our indie rock saviours.

I'm still wearing my socks....
and incidentally my pants as well.

but last night i saw Clap Your Hands Say Yeah at the Metro in Chicago. I'm going to disagree with MIB's post and say it was average. Yes, they do have some awesome songs and the lead singer was able to make me lol every time I looked at his hair. But, the concert was short with them playing about a 45 minute set and a 2 song encore. They had some songs that certainly rocked, but I left wanting them to rock more.

With any luck I won't be wearing my socks tomorrow. I'm seeing The Format tonight and they allegedly have the ability to rock socks off.

Monday, April 03, 2006
World Series Preview
"The Athletics will win the World Series and vindicate the Man in Black's April prediction," said the crystal ball.

Saturday, April 01, 2006
I gotta get more socks...
Because mine were completely rocked off last night. In all of my music going days, the Clap Your Hands Say Yeah! show last night was by far the most fun I've ever had at a show. The opening band, The Brunettes, are a New Zealand band with a foxy lead singer that played xylophone. They also had a full time saxophonist and a part-time trumpet player. The aforementioned fox also played clarinet, and let me tell you brothers, it was hot.

Had some beers. Took a piss. Got ready to rock.

CYHSY came on and started rocking. That was all. No filler. Normally, I appreciate a little banter from the frontman. Last night...not necessary. They played pretty much the whole album plus three or four new songs. The show was so good even the Pope danced a bit.

There's a reason these guys have sold out every show on this tour.

Term Papers