Wednesday, March 02, 2005
Frrrrooooooommmmm Medestoooooo, Calllllifornia....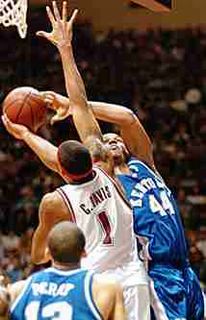 Chuck HAYES! Tonight is
Senior Night at Kentucky
, meaning this will be the last time that Chuck puts on a Kentucky uniform. It has been said that Chuck might be the most respected and loved player in the the history of the program--which is 101 years young this year, by the way. The guy is an amazing individual, and the absolute model of what a student athlete should be--the consumate teammate and unselfish player, not only staying four years, but he is graduating in May. He's the ultimate leader, does countless great things off the court, and has the respect of every coach and commentator in the country. Last night during the MSU-Arkansas game, the announcers all said that Chuck is their SEC Player of the Year--despite the fact the guy only averages 11 points a game. He will leave UK as a top 10 all-time leader in rebounds, blocks, starts, among others. No other player in the country has a better career winning percentage (when starting).
As for the title of this post, UK's announcer does a similar thing for Chuck as they did for MJ in Chicago. I have heard both, and I can tell you one thing without a doubt--the crowd's reaction for Chuck is twice as loud as it was for MJ. And it was deafening for MJ. It is honestly a really sad day for me--Chuck will always be one my absolute favorite athletes of all time, and I have a pretty strong hunch after this season we're probably not going to see him logging any kind of big-time minutes in the NBA.
I think that what his fellow senior on the team, Josh Carrier, says about him speaks volumes:
"Chuck represents what is good and admirable in a leader. He has given his heart, body and soul to UK basketball, and in return he has received our admiration. His zeal, his personal sacrifices and his devotion to our great basketball program have known no limits.
I thank you, Chuck, for what you mean to our team, to my great state of Kentucky and to me. You are a true friend and my brother."
Thanks for the memories, Chuck. (Woo, it's getting a little dusty in here...)
Term Papers